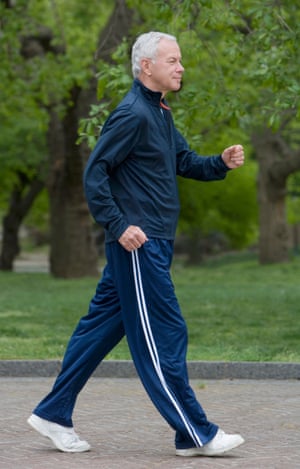 There are concerns that making a rapid jump to 10,000 steps a day could have adverse consequences … Photograph: Getty/Tetra RF
For those who are chronically ill, have type 2 diabetes, or older individuals who are used to a more sedentary lifestyle, there are now concerns that making a rapid jump to 10,000 steps a day could have adverse consequences. For others, the milestone may seem intimidating and can derail intentions to increase daily physical activity.
We know that sedentary lifestyles are bad, and if youre taking fewer than 5,000 steps a day on average this can lead to weight gain, increase your risk of bone loss, muscle atrophy, becoming diabetic and this litany of issues, Tudor-Locke says. But, at the same time, there seems to be an obsession about 10,000 and how many steps are enough, yet its more important, from a public health point of view, to get people off their couches. The question we should really be asking is: how many steps are too few?
Some studies investigating the protective nature of exercise against chronic illnesses ranging from heart disease to stroke and various forms of cancer, such as breast cancer and reproductive cancers, suggest that somewhere between 6,000 and 8,000 steps could be the lower boundary to aim for.
Six thousand steps and above is getting you into that range of what these studies are showing and is protective against cardiovascular disease, in particular, Bassett says. And for people who have elevated risk factors to begin with, this can cause an improvement in those risk factors.
Scientists who have attempted to calculate an exact number of steps that equate to the public health guidelines of 30 minutes of moderate exercise per day, have found that we should perhaps aim for a minimum of 7,500 steps.
But while the rise of the step-counter industry has led to a generation of fitness lovers fixated on achieving 10,000 steps, there is also currently no known upper ceiling on how much is good for us. Exercise scientists are currently trying to conduct studies to see whether 15,000 or even 18,000 steps have long-term health benefits over the traditional 10,000 benchmark.
Scientists who have studied the Amish people in rural Canada, who use no motorised forms of transport, have found that they average 14,000-18,000 steps a day, while a study of Japanese patients with type 2 diabetes from the mid-90s found that those who averaged about 19,000 steps a day had far better outcomes compared with those who remained largely sedentary.
One of the major problems with the 10,000-steps-a-day goal is that it doesnt take into account the intensity of exercise. Getting out of breath and increasing your heart rate may well be even more important than the exact number of steps taken. Researchers are currently conducting studies to see whether people who take 10,000 steps a day merely by pottering around their house achieve the same health benefits as those who do so by brisk walking or playing sport.